Biography of Vincent Flanders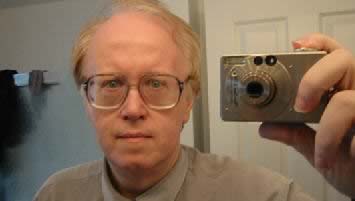 I always tell people, "I was born in Indiana, currently live in Washington state, but I'm from Texas." Speaking of being born, my mother kept little notes about important and funny events in my life. Some of it's tedious, but if you're bored, here's a blow-by-blow account of my life up to age 6 1/2. There's probably something symbolic about why mom stopped keeping notes around the time I had my first communion, but it's not worth the money to try to work through it in therapy.
Some of the more amusing anecdotes:
The sixth word I ever uttered was "good," which is deeply ironic because I'm best known for my web page tutorial "Web Pages That Suck. I didn't notice the irony — it took an astute reader to point this out to me. Hmm. There's probably a point here.

When I was four, I told everyone on the bus about every time my parents corrected me and what I had done to deserve punishment.

When I was 4 1/2, my mother broke a yardstick on me and I said, "Break a couple more and they'll all be gone."

Around the same time I told my mother that a neighbor's baby didn't speak English. I said I didn't know what it spoke, but I guessed it must be French.

On my first day of school I dressed early in the morning and went into my dad's room and said, "This is the big day. I wonder if they have ROTC?"

When I came home from the first day of school I told my mom that "I had to keep quiet for a 100,000 hours." I also told her that I heard about Jesus and Mary and I'd probably hear about the devil tomorrow. (Ah, the beauty of attending a pre-Vatican II Catholic school.)
College
I earned a bachelors degree in Classics from Wabash College which is one of the few all-male schools remaining in America. I graduated in 1974 with a B.A. in Classics, which involved the study of ancient Greek language, art, philosophy, religion, theater, and poetry. Much of my web design theories are based on the ancient Greek ideas of "sophrosyne" (moderation), proportion and beauty.
Career
I've held a number of interesting jobs, but my most colorful job was back in 1970 when I worked for Dow Chemical in Zionsville, Indiana, cutting up, grinding up and extracting the blood from tens of thousands of human placentas. I'll be glad to give you the details, but only over lunch. You're buying. Speaking of lunch, I'll have the steak. That job so traumatized me I couldn't eat chicken for 15 years.
I spent five of the best years of my life in Austin, Texas, a place a place I still miss. I was Associate Editor of Access to Wang, a vertical-market computer magazine covering the Wang minicomputer marketplace. My monthly rumor column "Back Talk" was a source of never-ending joy to Wang Labs' Public Relations Department and most of the executives.
I got my start on the Internet as the webmaster for Lightspeed Net — which became a part of OneMain.com, and then became a part of Earthlink — from 1995-1997. I also taught HTML to various local businesses and was Director of Database Marketing for Lightspeed Software (now Lightspeed Systems).
Web Pages That Suck
In August 1996 I launched WebPagesThatSuck.com as an offshoot of my HTML classes. I always included live sites as examples of what to do and not do and found people really enjoyed looking at the bad sites and learning what was wrong with them. WebPagesThatSuck.com became an extremely popular destination on the web, winning a number of awards including a selection as one of PC Magazine's Top 100 Web Sites. Other awards most notably include Yahoo! Pick of the Week, USA Today Hot Site and Cool Site of the Day.

Because of the publicity my site received and how I used humor as a teaching tool, in early 1997 I was offered a book contract to bring my unique style to the computer book industry. I quit Lightspeed Net and enlisted local designer Michael Willis to help with the project ,which was released in April 1998. The book, "Web Pages That Suck: Learn Good Design by Looking at Bad Design" soon became the Strunk and White of Web design books. Even though most of the sites have changed (as well they should), what's discussed in the book will remain valid for years. Design is design.
I only planned to write the one book and move on to other topics, but there was a whole new set of self-taught designers and business people armed with incredibly powerful design tools that let them create sucky sites faster than you can say, "This sucks."

I wrote Son of Web Pages That Suck to help these designers — both pros and amateurs - "create sites that are designed for their audiences' needs, not for their egos or their resumes or for clients who are in love with pages with excess sparkle and flash." This book also focuses on helping readers save time by teaching them how to recognize bad design on the spot.
For a detailed description of the book, including chapter openings, visit the Son of Web Pages That Suck page.
This link will take you to other of my published Writings (external site)
Currently
I currently reside in southern Washington state and:
1. I'm a journalist, published book author, tech writer, content creator and usability analyst. I also teach and give speeches on web design, accessibility, and usability.
Trivia
In my younger days I met and interviewed a lot of great rock stars such as Eric Clapton, Jimi Hendrix, Jerry Garcia, Kenny Rogers (when he was with the First Edition) and some people and groups who qualify for "Where Are They Now?" status like Bubble Puppy, Gene Clark and Doug Dillard, Ides of March, Blue Cheer, American Breed, SRC, etc. Most of my interviews were marginally OK, but my interview with Roger McGuinn of the Byrds (new window) was truly brilliant.
My good friend Austin Chandler took some brilliant photos during the years and he was my sound engineer for most of my interviews and he started his photographic career with me. Here are some pictures Austin took when we were working together.
All photos open in new window:
Jimi Hendrix Experience

Jimi Hendrix, Indianapolis Coliseum, 1969. (22K) Photo by Austin Chandler Copyright (c) 1998. Austin's second photo shoots (We saw the Byrds the day before). Here's another photo of Jimi, and here's another one. Finally, one more for the road.
Cream

Jack Bruce, Ginger Baker, Eric Clapton (L-R). Clowes Memorial Hall, February 1968. Absolutely great concert. Snowed viciously that night and we barely made it back to Wabash College.

Ginger Baker and Eric Clapton. The arrow points to one of the few pictures extant of me during the 60's. The guy on the left is fellow Brebeuf high alum Art Pettygrove — and I haven't seen him in 30 years. Somebody said he ended up being a dentist or doctor in the Orlando, Florida area.
First Edition

Kenny Rogers Copyright (c) 1998, Austin Chandler. Taken 1968/1969? at the Indiana State Fairgrounds. Kenny was a really nice guy and I have no idea where the tape to the interview is or if we even made one. One of my favorite interviewees and I was pleased when he hit it big.
Bubble Puppy

Bubble Puppy, Photo Copyright (c) 1998 Austin Chandler. This is another one of those "Where are they now?" groups. They had a really great album and one hit single called Hot Smoke and Sassafras. Taken at the State Fairgrounds, Indianapolis.

Austin moved out of town and went on to get some more great photos like this one of Robert Plant from Led Zeppelin.